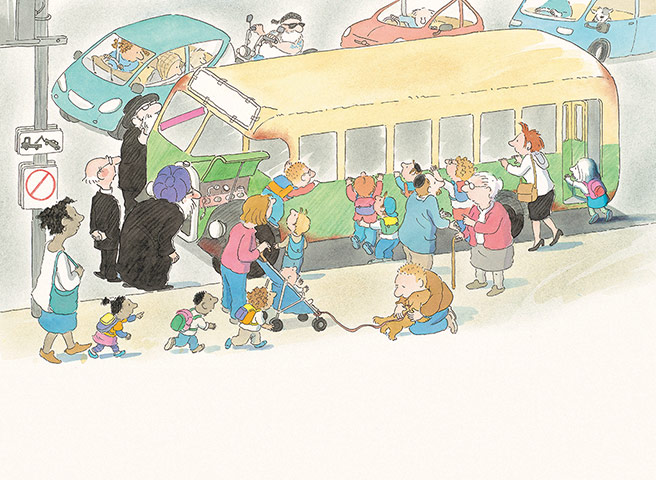 The excellent Zoe Toft at Playing by the Bo
ok put together a list of children's and YA titles that promote understanding and reaching out between communities. Here she's looking specifically at books "which might help spread understanding of what life can be like for Muslims living in the west". You can find the list here.
The Guardian also ran a feature
by
Sita Brahmachari titled "Books to breed tolerance"
where she has a compilation of "
stories for children that explore our differences and common humanity".
As a follow-up, the Guardian asked its readers to send word of "books that had helped them see the world differently". Those are listed at the bottom of Brahmachari's article.
In addition to the many, many great recommendations these two links offer (with the likes of Marjane Satrapi, Eva Ibbotson, Deborah Ellis or Jamila Gavin), I'd like to add a couple from my own reading pile:
A Bus Called Heaven and Vanilla Ice Cream, by Bob Graham. Two
picture books from age 4+ where the warmth, softness and inclusiveness of the illustration is perfectly matched by those of the story.
A Hen in the Wardrobe
, by Wendy Meddour. A fun family caper with more serious undercurrents of belonging and acceptance. 7+
Benny and Omar, by Eoin Colfer. As hilarious as you might expect, with added GAA bits. 9+
Chalk Line, by Jane Mitchell. Freedom fighters, children soldiers and the ravages wreaked by war make up the backdrop of this powerful read. YA
Just Like Tomorrow, by Faiza Guène,
a story set in a drab Parisian suburb but led by a strong, imaginative and very funny narrator. A tale about opening up and growing up, and growing stronger, not tougher. (I reviewed this one for Inis a long time ago).
Made on
Earth
, by Wolfgang Korn. In this fictional but extremely well documented account, Korn retraces the "life" of a red fleece jacket from the oil rig where the petrol needed for its fabrication is extracted to the shop where it is sold and onwards to a second-hand market in Africa and finally a refugee boat drifting out at sea. Very accessible, this shows how globalisation connects people from all sorts of places, its impact on so many lives and on the environment. 10+
Now enjoy those, and share them!